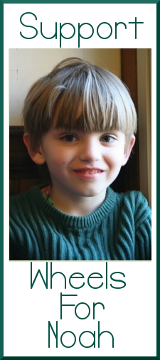 Noah is the son of a fellow homeschooling family, the Estes, who own
Hands and Hearts
, the company that makes the awesome hands-on history kits. We own a bunch of these kits and they are great. Hands and Hearts just got great news that he Consumer Product Safety Commission voted to extend the stay of enforcement on the CPSIA through December 31 of this year. If you recall, the gov't was requiring extensive testing on all small toys and parts used in toys, even in educational kits. For small businesses, this would require an enormous cost for the testing and it threatened to put H&H out of business. Their business HAS suffered, but it's good news that they can continue to sell their fun kits.
The Estes are parents to 8 children, one of whom has a progressive genetic mitochondrial disease. I have followed 4 yo Noah's story for, well, 4 years and he is an incredible little boy, in spite of his major health issues. Recently they were able to get a wheel chair for him since mitochondrial disease makes kids super tired. In his wheelchair, Noah is able to get himself around the house to play in short bursts and to be with his family where ever they are, rather than having to just rest on the couch.
The Estes have a 15 passenger van to transport their family, but because of the type of wheelchair Noah has (it doesn't fold flat like a typical limited-use wheelchair) their isn't room for the chair AND all of their family in the van. Some of their blog readers and friends are hosting a fundraiser to help the family raise money for a transit bus. This vehicle will have room for Noah's chair (and will have a lift! It takes 2-3 adults to lift the chair into their current van!) and the whole family.
Please click on the picture of Noah to go to their online auction and support this wonderful family! There are all sorts of neat products and homeschool items there. If you aren't interested in any of the items, consider making a donation.
This family is such a blessing to everyone around them. They have shared the love of Jesus, through Noah's trials, on their blog, in person at hospitals or just around town with him. They have an incredible faith in the goodness of God and his plan for Noah in spite of the pain and suffering he faces here on earth, and they are not shy about sharing it. God is surely using this little boy and his story to further His kingdom in a big way.
The online auction will start Wednesday, March 2 and end Saturday, March 5 at 10 PM Eastern. All items are FREE SHIPPING with the donors paying the shipping to the winners.